I met
Liz
through her sister Katie and was instantaneously mesmerized by her
work.
She hand weaves these ornate basketball nets out of hair weave. Her work makes me think about cultural appropriation, basketball being originated by White Americans and now such a staple in black culture. Appropriation, while typically cast in a negative light is a theme that I am interested in exploring further in future works because I feel that it is an essentially unavoidable facet of anthropological evolution in our highly connected / ever globalizing society. 
Thanks to the internet, cultures are melting and meshing further and faster than ever before. Hell, if it wasn't for white people adopting yoga I wouldn't be able to take a Bikram class a block away from my apartment -or have a Dirty Chai Tea latte at
Books and Books
. 
Just a few nights ago I was watching Indian Cable TV at my Aunt's house and all the Indian women on the show looked Hispanic- but not just your run of the mill, around the way latinas, I mean Telemundo Latinas- the show girls with the heavy makeup, pitch black straight hair and form fitting dresses. At first it was a bit unsettling and confusing, but when I weighed it against the fact that social media is such a relevantly unifying monster- its easy to understand why notions of beauty and what is considered beautiful are jumping cultural boundaries like never before. I wonder if one day all "beautiful" women will look exactly alike- and ethnicity in general will become antiquated notion of barbaric societies. Its interesting to think about the fact that the more we advance technologically the more we unify culturally- or in a sense go back to where we came from.  (Reminds me of
Pierre De Chardin's Omega Point.
)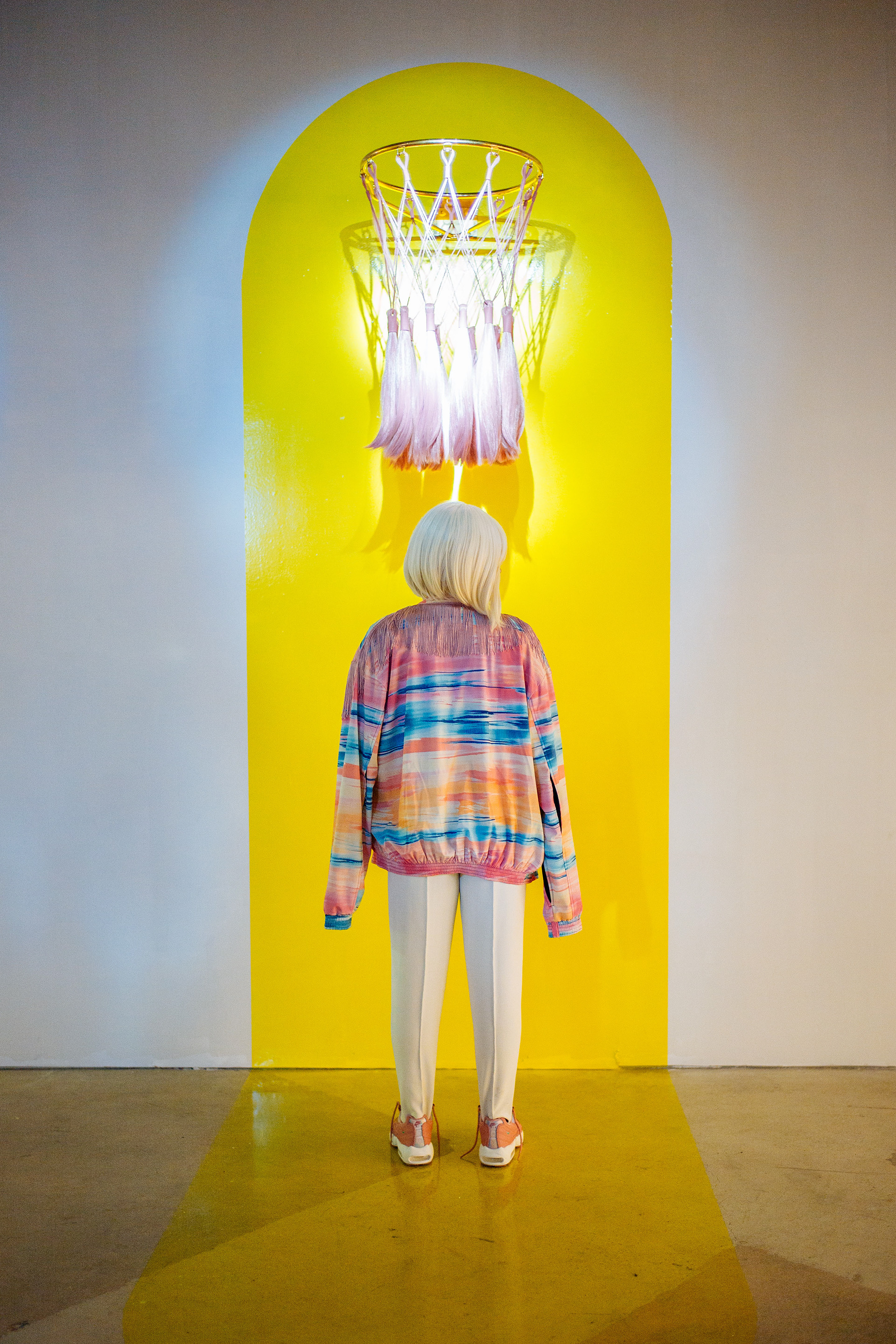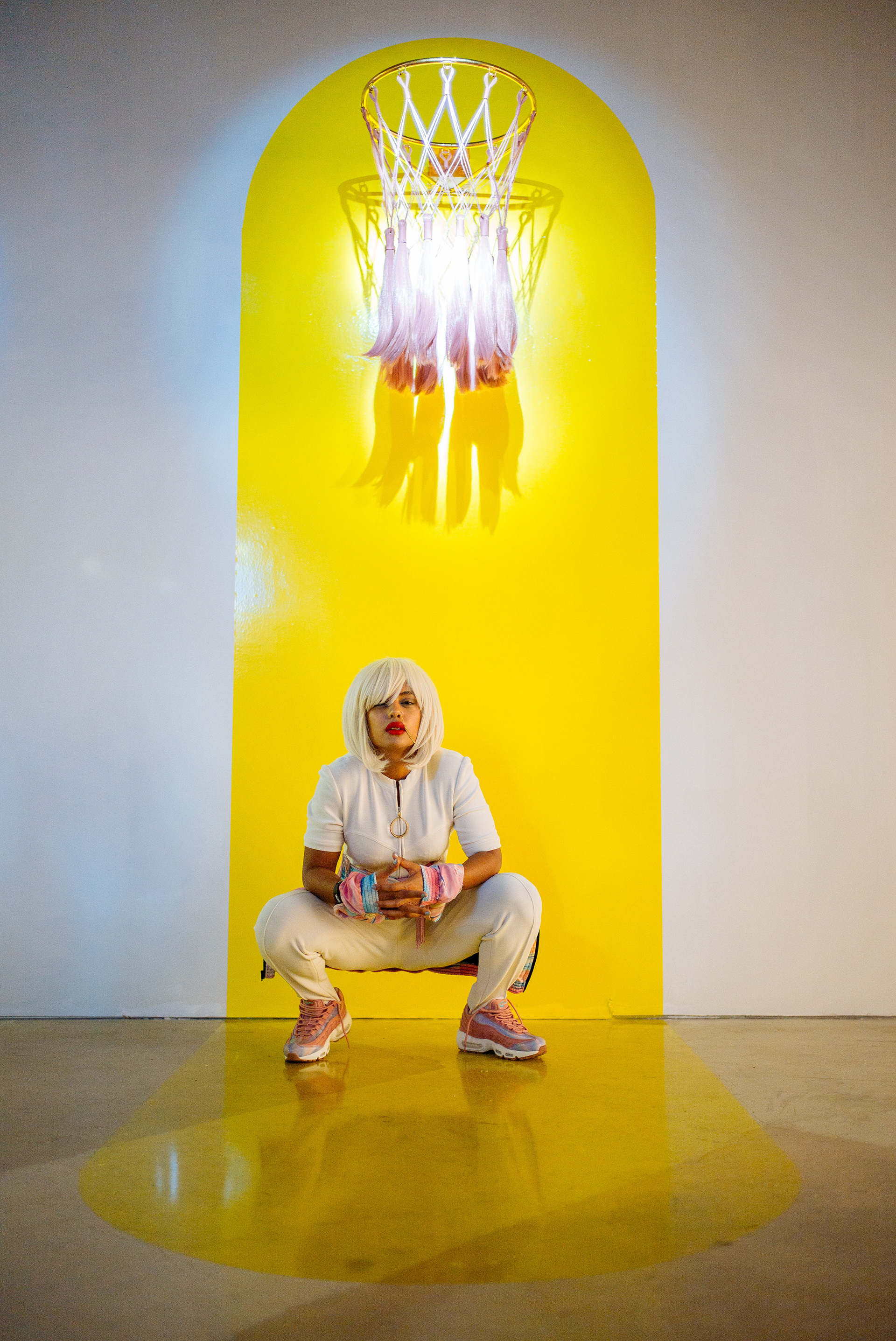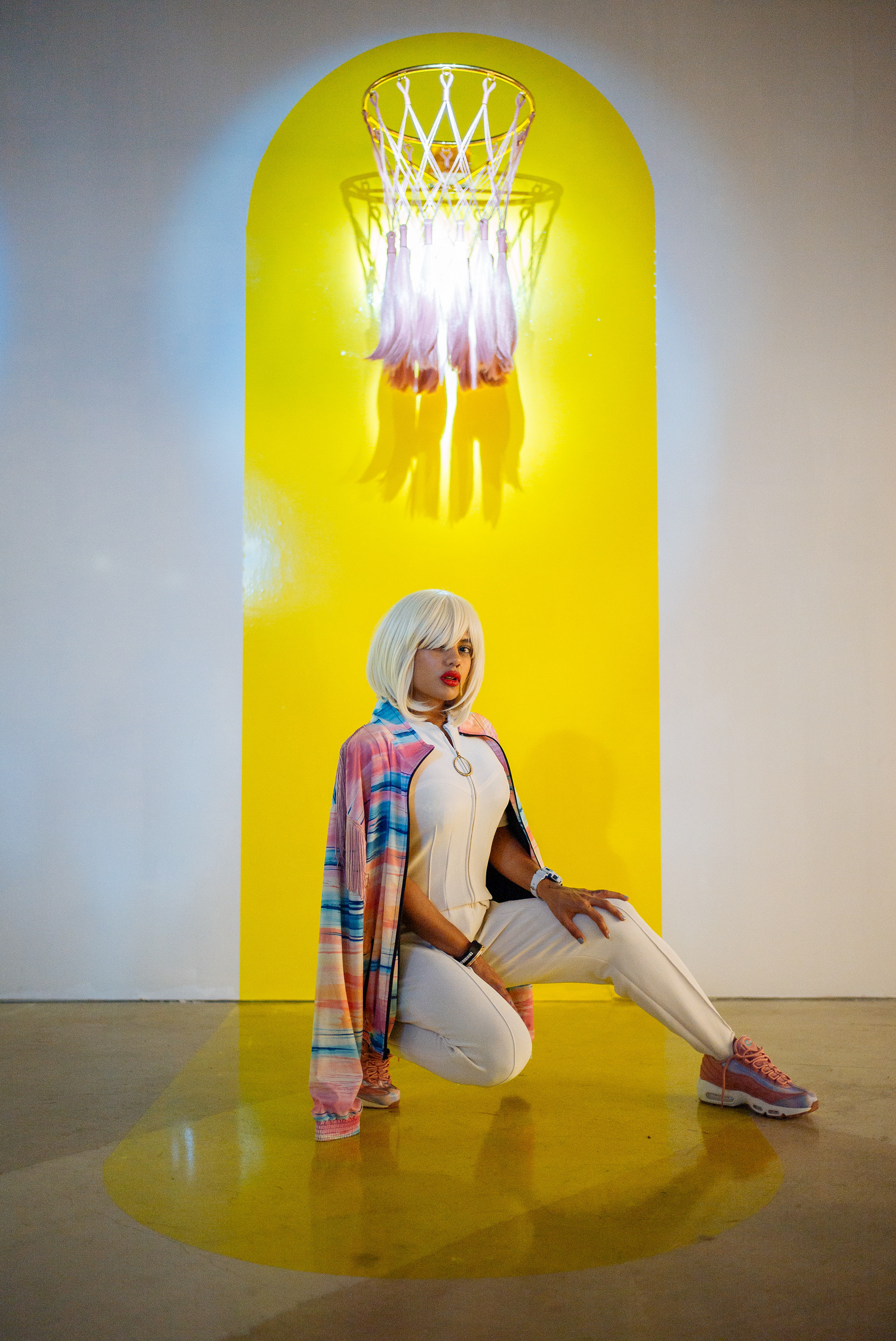 After visiting Liz's installation at the Wynwood Arcade for Art Basel- I knew I had to shoot in the space. Within a week I created some site specific pieces, including an oversized sweatshirt and harem joggers with fringe detailing that I thought would photograph beautifully in the space. I also updated an existing bomber jacket I designed a few years back as I thought the color palette would compliment her walls. I chose to add fringe to the pieces as an obvious play on the netting details of her hoops.
'Chixsie Goldteeth' the character I've been channeling for these recent shoots, represents a form of hybrid culturalization that I see as an inevitable response to our current societal interconnectedness.  She most intimately, directly mirrors the multi-cultural influence of my upbringing as a West Indian girl being raised in Miami. For styling this character, I borrow heavily from Hispanic and Afro-urban cultures that I was influenced by as a youth, while still retaining elements that are native to my own Indo-Trinidadian background. 
While cultural appropriation is a topic usually reserved for angry POC's subtweeting innocuous white people about wearing bindis and tribal headdresses to Coachella, I think its important to contextualize the practice from a historic viewpoint.  Historically, appropriation is a means for immigrant cultures to assimilate to their new surroundings, especially in lieu of the abundant cultural diasporas made possible by colonialism. In this regard, Chixsie AKA Mauby Digital can be seen as a future-reflection of that sorted past-need to fit in to unfamiliar environs as a means of survival. 

For this shoot, I enlisted the help of friend and talented photographer
Brian Demby
, who has a natural gift for composition and creates magic with his 
Leica
camera.
I love the futuristic, streetwear feel of this shoot, as I think it compliments the aesthetic of Liz's work. I kept true to Chixsie's character by styling her with a nose chain, a nod to my Indian roots and gold grills- a nod to Miami urban culture of my youth. Another fun, spontaneous shoot for the books!